A well-designed landscape can appeal to all your senses, while improving the curb appeal of your home.
Plants and water features are an essential part of any landscape. Deciding which plants and materials to use for your home's landscape can be a challenge.
We assist our client's in selecting the best options for their project in terms of their individual preference and needs.  Are you looking for privacy, attracting birds and other wildlife?  We also consider maintenance, exposure conditions, soil characteristics and water drainage.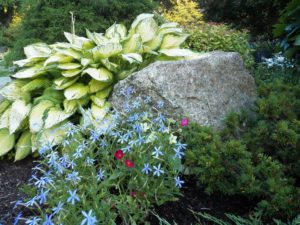 Top-rated plants for residential landscaping:
Harness nature's wonderful palette of colors, textures and scents through carefully selected plants, shrubs, trees, native plantings, gardens and water features.
•  Hostas. Hostas are among the most famous variegated plants for shade gardens and are available in an abundance of varities.
Learn more
•  Ornamental Grasses. These are becoming an increasingly popular choice with numerous benefits. Grasses are low maintenance, drought tolerant, fast growing, add height and texture, and can be grouped together for a dramatic effect.  Short varieties are available as a ground cover alternative. Learn more
•  Shrubs and Bushes.  Shrubs and bushes can add great dimension and color. Rhododendrons, burning bush, dogwood and other varieties are great options. Learn more
•  Perennials.  Perennials are a great option for small gardens and planter beds. For larger areas you would plant them in groups or sections. Perennials are available in an extensive variety and are a great way to add vibrant colors to your outdoor space. Learn more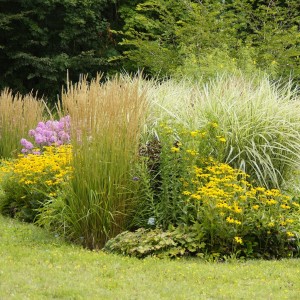 •  Minnesota Native Plants.  At BOALD our designs tend to focus on blending hardscapes into the natural setting.  Therefore, we strongly advise incorporating several native plants. Not only are native plants well adapted to the local environment but they have evolved with wildlife and are one of the easiest ways of attracting more life to your outdoor space. Learn more
•  Boulders and Rocks. Incorporating boulders into your outdoor space is both a long lasting and beautiful addition to a landscape.  We can incorporate locally sourced stone into your design – or use natural rock already present at or around your property.
Outdoor Water Features & Ponds
There is nothing more relaxing than the soothing sounds of water. The pleasant flow of water helps block background noise and enhances the tranquility and peacefulness of your outdoor living and patio areas.
Before selecting a backyard water feature consider how much time and money you would like to invest.

•  Pond Construction.
A well-installed garden pond can provide a tranquil and relaxing atmosphere.  But, it's crucial that the design and installation are done correctly. If not properly installed, you may end up with a messy eyesore rather than a relaxing water feature.
•  Outdoor Fountain. A fountain might just be the sensory experience for your outdoor space. Fountains come in a wide range of sizes, styles and materials. Prior to installation, we can help you create the perfect setting to feature your fountain – whether used as an accent piece or focal point.
•  Pools and Spas. An outdoor pool or spa is definitely a component of your overall landscape. At BOALD, we ensure your pool and landscape compliment each other. There are many paver stone options and designs that will maximize the functionality and aesthetics of your out/in-ground swimming pool or spa.
Need some inspiration?
Preview the BOALD Landscape Portfolio.          
BOALD Portfolio
Ready to find out more?
Contact us for a free quote!          
Contact Us