Do you have uneven or sloped property?
Retaining walls are needed if: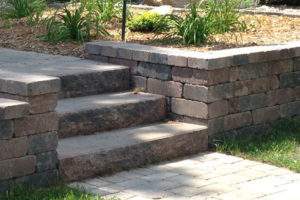 •  You need a way to control downhill erosion. A retaining wall will decrease the angle of slope and hold back soil.
•  Have trouble managing water runoff? Retaining walls slow the flow of rainwater.
•  Is the soil around your home is being threatened by water run-off.  A properly constructed retaining wall will keep the soil around your home's foundation from washing away.
Aesthetic value meets powerful structural integrity.
Interlocking retaining wall systems have revolutionized the look and the construction methods of today's retaining walls.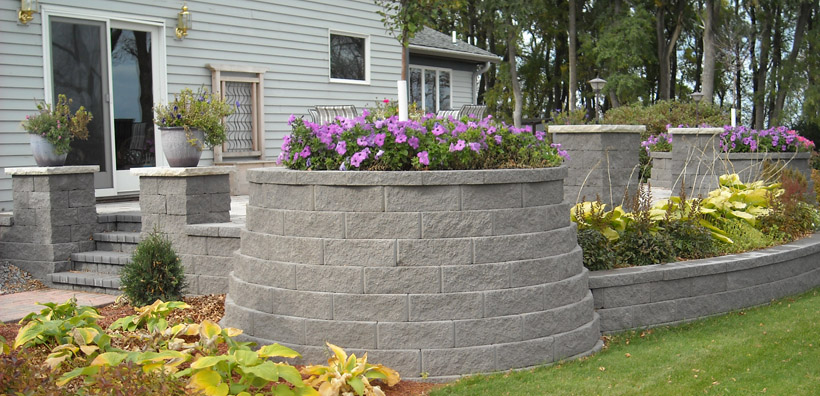 Interlocking retaining walls are high-strength concrete blocks that are dry-stacked, sometimes interlocked with pins, and set on level gravel base pads.  Walls over a certain height are installed with geogrid soil for reinforced stability.
Concrete block retaining wall systems are growing in popularity due to their improved aesthetics and single wall construction that requires less surface area to achieve optimum strength. Walls are powerful structures that must function as designed – requiring proper materials and professional installation.
Concrete retaining walls are an important financial investment for homeowners wishing to maintain both beauty and integrity for many decades to come.
For a natural look, consider a boulder wall.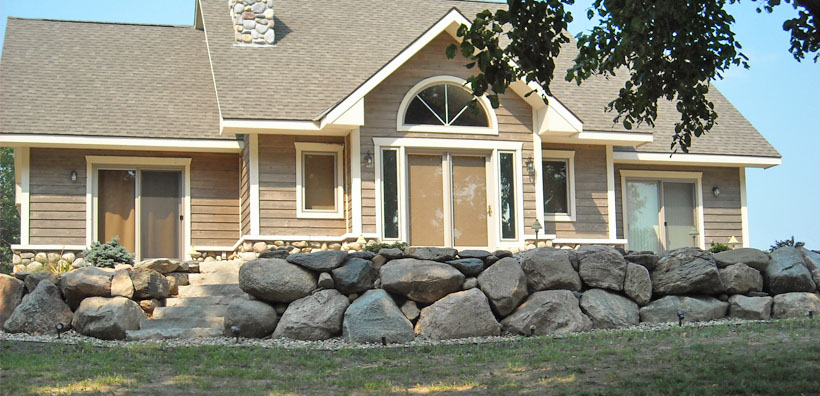 This type of retaining wall is popular for those wishing to re-create a more native landscape look.  Many natural plants thrive in the nooks and crannies created behind and in between the boulders.
Boulder walls do allow water and sediment to flow through and may deposit sediment during periods of heavy runoff.  At BOALD we hand select only the finest boulders and place them individually to enhance the natural beauty of each boulder.
Whether you are considering traditional block or boulders, we suggest you check out the variety of shapes, colors and textures available!
Preview the BOALD Landscape Portfolio or other ideas from our suppliers.
BOALD Portfolio      VERSA-LOK     Borgert

Ready to find out more?
Contact us for a free quote!