Let's Get Started on Your Landscape Project.
The use of concrete pavers is growing rapidly. Pavers interlock together to form a patterned surface and are manufactured in various textures and colors. They can be removed and re-installed making repairs swift and easy.  Pavers are installed over a compacted base of gravel and sand. Concrete pavers are both versatile and long lasting.

They are used for the following applications:
•  Patios
•  Walkways
•  Driveways
•  Playgrounds
•  Pool decks
•  Sidewalks
•  Entrances to corporate offices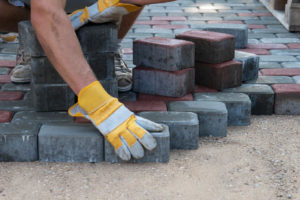 Retaining walls provide support and retain soil which would otherwise collapse. The size, scope and installation of retaining walls determines the procedures and methods for soil preparation and backfill compaction. A properly constructed retaining wall will keep soil in place that would otherwise cave, slump or erode.
Retaining walls are often constructed for the following purposes:
•  If the soil around your home or structure is being threatened by erosion, a properly constructed retaining wall will keep the soil from washing away.
• To elevate planting areas for improved drainage.
•  Create level ground to allow more usable space for driveways, patios or other surfaces.
•  To accommodate changes in grade in a landscape with uneven topography, such as hillsides.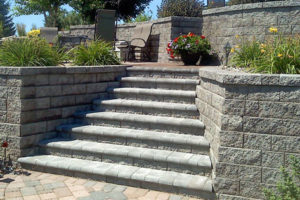 Outdoor living space has become a popular trend among homeowners. We specialize in creating a unique extension of your indoor living space – into your backyard. Consider a fire pit, fireplace, outdoor kitchen or grill.
• 
Outdoor Kitchens.
No outdoor kitchen is built the same. A common option is to build your outdoor kitchen out of concrete block. Construction can be complex and to ensure durability and safety – it is recommended to hire a professional landscape installer – like BOALD Landscape!
•  Fire Pits & Built-In Fireplace. Create an intimate hearth feeling and make your new outdoor living space "livable" for more months out of the year. Whether wood burning or hooked into your home's natural gas line – aesthetically, the sky's the limit. Choose from a wide range of brick, stone or marble materials that coordinate with the rest of your space.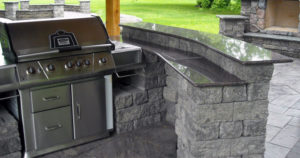 An outdoor space is not complete without the carefully selected plants, shrubs, trees or blooming perennials.  Outdoor water features can block background noise and enhance the tranquility and peacefulness of your outdoor living and patio areas.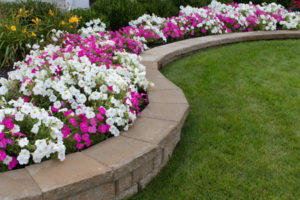 •  Plants. Finding the right plants for your outdoor space can be a challenge. At BOALD, we assist our client's in selecting the best options for their project in terms of their individual preference and needs.  Continuing reading to learn more about which plants thrive in this region and discover the varieties and colors you like best. 
•  Water Features. Prior to selecting a backyard water feature you should consider several factors.  It is also critical that your water feature is installed properly and compliments your entire landscape design. Ponds, fountains and outdoor swimming pools/spas are some of the top water features homeowners select for their backyards.
With hydroseeding, it's possible to go from a freshly hydroseeded lawn to a mow-ready lawn in less time than dry-seeding, given optimal conditions.  Since the germination process is already kick-started, the roots take hold faster, resulting in a greener, healthier lawn.
When compared to sodding, hydroseeding provides a number of advantages, including:
• Offering natural germination for strong roots.
• Providing even distribution.
• Matching your soil's characteristics for compatibility.